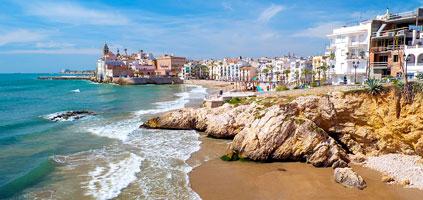 This year, the joint HIMSS Europe 18 and Health 2.0 2018 conference is taking place on 27–29 May in the coastal Spanish town of Sitges, 25 minutes away from Barcelona.
HIMSS Europe is renowned for gathering the most influential hospital CEOs and CIOs with the most important technology providers and industry leaders, while Health 2.0 Europe represents the leading showcase of cutting-edge innovations transforming health systems. The joint 2018 event aims at connecting these two worlds stepping from vision into action, by initiating meaningful business conversations, connecting supply and demand and creating marketplaces, thus accelerating investments and large-scale implementation.
The Conference will encompass the whole spectrum of the digital health ecosystem, including digital transformation, cybersecurity, interoperability and data into knowledge. Th event aims to reach key audiences in the sector, including hospital CEOs, innovative SMEs and start-ups, CMOs, clinicians and nurses, but also patients and public initiatives in eHealth and personalised medicine. The Conference is also supported by the Dutch Ministry of Health and the European Telemedicine Conference (ETC) will also be featured in the conference, as well as a high-level C-suite workshop hosted by HIMSS-CHIME International.
Several Consortium members will attend the event, including Siemens Healthineers and Lynkeus, whose COO, Mirko De Maldé, will be chairing the session "Playing with Blockchain" (Sunday 27 May, 3:00 pm CET), and presenting MHMD within the session "Personal Health Record Initiatives – Empowering Patients and Citizens to Become CEOs of their Own Health" (Monday 28 May, 10:30 am CET).

About the sessions
Playing with Blockchain
Sunday 27 May, 3:00 pm CET
We've all heard of blockchain and the impact it may have on health systems in the future. But how many of us could easily explain what blockchain is really about? This hands-on workshop is for the 99,99% of us who still don't understand, after many explanations, what the buzz is about. The idea of this workshop is simple: If you get the chances to play with the pieces of the blockchain puzzle, you will never forget what the underlying technology is about. High-lighting recent blockchain initiatives in health care and using a learning by doing approach, our experts will give you a nuts and bolts understanding of blockchain and why so many lead-ers are placing great hopes in the technology.
Personal Health Record Initiatives – Empowering Patients and Citizens to Become CEOs of their Own Health
Monday 28 May, 10:30 am CET
Lifelong and comprehensive sets of digital tools to safely and securely access, store, enrich and share your own personal health data – that is the promise of Personal Health Record (PHR) initiatives. A successful PHR allows patients and citizens to leverage their data and put it to use for themselves. But it also allows them to decide whom they want to share it with. In this session we will explore the emerging and rich landscape of personal health record initia-tives. What do they promise and how are they delivering on those promises?